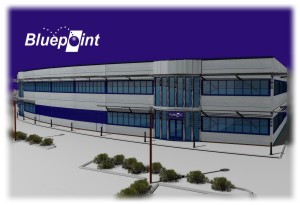 Bluepoint Corporation Ltd - your Quality Assured Supplier
Bluepoint is a leading UK distributor of computer products, including components, peripherals, systems and notebooks.
The company was founded in 1992, and operates its distribution centre in Milton Keynes. The company employs over 45 people, and has a turnover of 16m per annum.
Bluepoint has invested £1.5m in a purpose built warehouse completed in September 2002. This has greatly increased previous capacity, and has allowed us to drive prices down further, and increase our ability to meet the needs of our customers.
Bluepoint enjoys direct relationships and accounts with Intel, Microsoft, AMD, Fujitsu, Dell, Seagate, Trust, Sweex, Edimax & Edge10 to name just a few. We also have privileged status with major distributors and are able to obtain product and competitive pricing and preferential allocation.
As well as being ranked in the Top 20 fastest growing private companies in the UK (Virgin Fast Track 100), Bluepoint has also achieve UK runner up status for "Efficient Use of Information Technology" - Arthur Anderson Group, and UK runner up for Best "Large" Supplier to the Education Sector two years running.
Bluepoint is certified to the ISO 9001 quality standard, and pursues rigorous quality control procedures throughout all operations. We have maintained this certification since the year 2000.
Our corporate website provides dedicated pricing, stock availability, detailed technical information, informative images and innovative search and look up facilities, ensuring that your products are only a few clicks away.
With a trained and sophisticated Sales team, through to professional Customer Service backup, competent technical support and a wide range of products, Bluepoint can offer a professional distribution channel for products in an ever emerging and fast moving industry.
Our customers include Trade Dealers, OEMs, System Integrators, Resellers, Large IT Departments, Educational Institutions, and Government Bodies.